Thrillers? I almost never read them. Not even medical thrillers (though I love reading nonfiction books on science and medicine). This one, however, leaped out at me as I scrolled the daily twitter feed: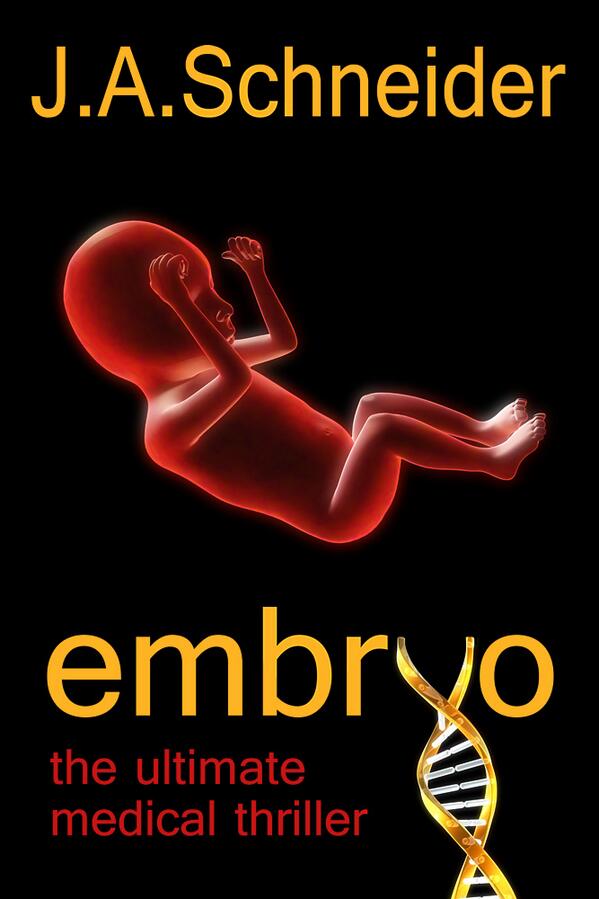 That is one striking, dramatic photo, and the DNA strand for the letter Y is very attention getting as well.
Will I read the book? Maybe. I'm so backlogged on books. I've read Robin Cook's medical thrillers, and just wasn't impressed. I don't care to read about serial killers unless they're exceptionally well done, like Hannibal Lector, and even then, I never finished that novel. But if I do read a thriller this year, EMBRYO might be the one. Only because of the cover; not because I can bear to read whodunnits. 
Synopsis (from amazon):
"Maria Moran's first inkling of trouble was the coppery taste in her mouth. It came suddenly, a rushing whoosh of something that made her gag, and when she reached to wipe her mouth, her hand came away smeared with blood." 
So begins this thriller about a young intern, Jill Raney, determined to investigate tragedies and terror at a famous fertility and genetic engineering hospital. When two pregnant women die and a fetus is delivered with severe chromosomal abnormalities, Jill's superiors – including handsome, smitten-with-her resident David Levine – insist there's no common link. 
But her suspicions deepen with the grotesque murder near the hospital of another pregnant woman – her belly drained of amniotic fluid. And when a woman miscarries in the hospital and then disappears, Jill frantically searches for her – following a terrifying path that seems to link all the victims: Is someone playing with life…and the structures of human life itself? 
An unforgettable tale of suspense with a shocking denouement, Embryo takes you deep into the mind of malignant genius.
Review by Jen Blood  BloodWrites
J.A. Schneider's medical thriller EMBRYO opens with every woman's worst nightmare…

 

It's rare these days that I find a novel I can't wait to get back to, but EMBRYO was just such a novel.

 

…. Though I thought one aspect of the ending was a little too sci-fi for the integrity of the rest of the story

 

 …A very strong four stars from this reviewer.

 

http://awesomeindies.net/2012/09/17/review-embryo-by-j-a-schneider-medical-thriller/

J.A. Schneider is a former staffer for Newsweek Magazine. EMBRYO is her first book in a projected series. Its sequels are EMBRYO 2: CROSSHAIRS, and EMBRYO 3: RANEY & LEVINE. She's been married for decades to a physician who enjoys explaining medical concepts which she interweaves as she writes. They live in Connecticut with their family. 

What created the idea for Embryo? 
The idea came like a lightening bolt when hearing a conversation between J.A.'s husband (who did OB before switching to Cardiology), and an Ob/Gyn friend who was excited about IVF and its advances in curing diseases in utero. As an author who had already published fiction and non-fiction, J.A. thought about all human discoveries – from fire to atomic energy – and the fact that they can be either good or very bad if they fall into the wrong hands. It was a thought that wouldn't let go. — J.A. Schneider