"I'm fascinated by the way events–wars and cataclysms and upheavals, of course, but the everyday changes that wash over everyday lives–bring a poignancy to a person's efforts to survive and prosper. I hate the idea that brave and intelligent people have been forgotten, that the hardships they underwent have dropped below the surface like a stone in a lake, with not a ripple left behind to mark the spot."  —Deborah Lincoln
What's better than introducing authors to each other because I love their writing and I think they'll love each other's writing? Finding out they already know and love each other's novels!
Yesterday I learned Nicholas Stansbury Smith already knows Elena Giorgi — well enough that she's reading his latest ARC. Small world!
Today I found Christoph Fischer reviewing Nicholas's first novel, ORBS, then Deborah Lincoln 5-starring David Lawlor's latest. In my childhood, communicating with real-life authors was a pipe dream (like picture phones). Today, it's my favorite pastime.
Before I go on, let me share  Deborah's review:
A Time of Traitors (A Liam Mannion novel, Book 3)
by David Lawlor (Goodreads Author) 

Brendan Gleeson, pay attention. The latest Liam Mannion novel is your next movie. You'll play Brennan.

David Lawlor's third Liam Mannion novel takes the series to a new level of intrigue and the characters to a new level of complexity. It helps to know a little of the background of the Irish war against the English in the early twentieth century. It helps to know who Michael Collins is and what the politics were around the 1921 treaty talks. But it isn't necessary. This is the best kind of historical fiction: a book that tells an engrossing story while faithfully reproducing the feel and mystique of actual events, times and places.

In this installment, Liam, a Commandant in the Irish Republican Army in 1921, and his fiancee Kate, a brigade intelligence officer, are assigned the tasks of uncovering traitors in the republican organization and discovering an assassin who has offed a London operative. Their missions are undertaken against the background of peace negotiations between Irish and British leaders, negotiations which are not welcomed by all the freedom fighters involved.

Lawlor introduces and develops a host of fascinating characters: an old Fenian, a survivor of past bombing raids, whose cottage is replete with bolt holes and armaments; a young orphan boy whose past renders him an excellent candidate for a future with the IRA; and a villain as nightmarish as anything Liam experienced in the trenches of World War I. I was delighted how much better we came to know Liam's father, Dan, in this book; I look forward to much more of him in future episodes.

The novel is so visual and active that the reader just naturally thinks of the movie that could be. Colin Farrell as Liam? Brendan Gleeson, of course. And (despite his age), Liam Neeson will always be Michael Collins.
 David Lawlor is Associate Editor of The Herald newspaper in Ireland.
Tan, The Golden Grave, and A Time of Traitors — set in the 1920s during the Irish War of Independence — follow the character Liam Mannion.
 Beth Camp is another author who brings to life brave, strong, intelligent, endearing people who suffered in real life as horribly as they suffer in the hands of historical fiction writers. She attended some 13 high schools on the West coast of the US, then balanced working full time with taking college classes. It took ten years to earn her degree, with odd jobs and careers in international banking and corporate consulting along the way before she became an English teacher at a community college (and taught for 26 years).
    Book 3 will be set in the Pacific NW!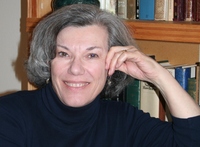 Deborah Lincoln grew up among the cornfields of western Ohio, the product of farmers on one side, doctors and lawyers on the other. She earned a bachelor's degree from Michigan State University and a master's degree from the University of Michigan and doesn't really care which one wins the big game. She and her husband have three grown sons and live on the Oregon Coast.
My goodreads page is filled with "I want to read this book!" checkmarks. Off to read now…