"Unheard Melodies" for Fiction Comp, #1 Week 1 by @
Heard melodies are sweet, but those unheard are sweeter –
–"Ode on a Grecian Urn," John Keats, 1819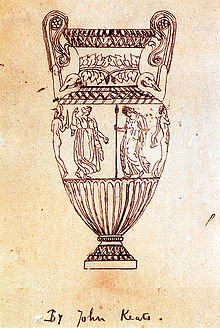 This is my entry for the "Fiction Comp – All writers are welcome – #1 Week 1" fiction writing competition hosted by @kyrios.
Writing Prompt:
Having seen the fall and rise of empires…
the death of his loved ones… an immortal tries
his best to not mingle with society by holing
himself up in a cave far away from any civilization.
During one stormy night…
his home becomes the shelter for a stranger
who is the spitting image of his grandson.
Unheard Melodies
Alone in his mountain hideaway, the immortal heaved a godly sigh. The women he had loved! The demi-gods he had sired. Gone, all gone.
On a Grecian urn in a warm, dry part of the cave, fair maidens "forever panting, and forever young" danced under leafy boughs. Frozen in marble–ah! It seemed only yesterday he'd cavorted with them, not thousands of years.
Nor did it seem more than a century since John Keats gazed at those "marble men and maidens overwrought" in a British museum. Immortalized. Silly word. A graven image was no substitute for maidens who panted no more. All his statues, books, paintings, and music were also no surrogate for flesh and blood companions. They did remind him, though, why he had to distance himself from the mortals.
Thunder crashed, making the cave walls vibrate, but Weltschmerz didn't worry about electronics or storms. He didn't need human technology. With a swipe of a finger he called up songs from a life he'd led long, long ago.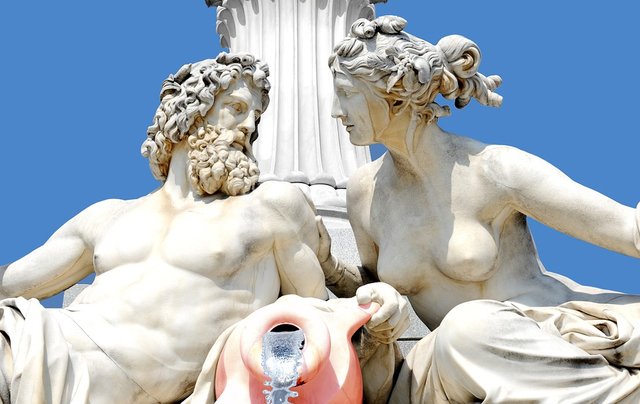 photo credit: Margit Wallner, pixabay)
Humans. So good at burning cities and libraries, spilling blood, and shutting out the voices of the gods. Then again, the gods had done their share of mischief.
But they'd done so much that was good, and beautiful, and true. Music, math, literature, science, history, art, and more, all existed in "the Cloud." The nine Muses kept track of things that mortals kept forgetting, destroying, or failing to create in the first place. Euterpe had been saving music from ages past and ages yet to come. It took humans thousands of years of ignoring messages from the gods before they finally learned to capture sound on invisible radio waves. Soon, someone would wake from a dream, take silicon from sand, and build computer circuits. Knowledge would be backed up in an invisible realm so far known only to the gods.
"Weltschmerz!"
That was what they called him now, the gods, who'd scattered. Did he really hear that name in his hidden cave? The immortal swiped a finger over a tablet, silencing a damsel with a dulcimer in Xanadu. He listened.
Howling wind, that's all he'd heard.
"Weltschmerz!"
No mortal knew him by this new name, Welt (world) plus schmerz (pain). As if the world weariness of the gods were more his fault than anyone else's.
Oh for one more night of nectar and ambrosia on Olympus, with all nine Muses at his table! He especially missed Euterpe, though he continued to see evidence of her across the ages. Mozart channeled her magic in his music, allowing mortals to hear the sublime sounds the gods had enjoyed long before. Euterpe also visited Coleridge in 1797, but the opium-addled poet awoke from a dream unable to remember the ending of "Kubla Khan."
Weltschmerz remembered. If only the powers of the gods included calling up a panting maiden with a mere swipe of the finger.
"Weltschmerz! I know you're in there. I'm coming in now, like it or not."
How odd. Nobody else knew the path through the Black Forest to his mountain home. Weltschmerz blitzed to the cave entrance, a mere slit in the rocks, as a man squeezed through. How dare he?
The man straightened, coming eye to eye with Weltschmerz. They both blinked, leaned closer, and stared. Weltschmerz recognized the high cheekbones and chiseled jawline of his grandson, who'd been dead for–well, he'd lost track of time.
"Gott in Himmel," the familiar stranger whispered. "You look exactly like the man in my dream."
Weltschmerz caught a whiff of dog and sheep in the stranger's wet wool jacket, warm blood, cold wet hair, and the stench of a battlefield.
"Well." He remembered the hospitality of the ancients, Homer's exulted Greeks and Germany's less-celebrated Nibelungs. No greater shame was there than to neglect a visitor. Time to lavish this one with a warm bath, dry clothing, and a feast. "First things first."
Weltschmerz whisked his visitor to the hot springs deeper inside the cave, saving questions for later. He was an immortal, after all. Biding his time wasn't an inborn talent. He'd learned it with many a sob of remorse.
His human visitor finally took a place at table, gazing around in wonder, yet accepting the incredible with the assurance of a demi-god. Weltschmerz engaged only in small talk–more wine?–until they could retire to chairs by the hearth.
"A man who pays attention to dreams," Weltschmerz began. "Silas, you are an anomaly."
"Indeed." Silas cast a furtive gaze at all the antiquities. "The dream did not, however, give me a sense that you are a Nazi. I wondered where they–where all the artwork was being hidden."
"Relax. It was World War One that drove me into this cave, and the Nazis who kept me from venturing out again. The antiquities you see are my own personal collection, and most were new when I acquired them."
"That's a scary thought."
"You have no idea."
Silas stared into the fire. "I faced a firing squad today," he said, "and I'm not entirely sure I'm still a real, live human. If my executioners had seen me get up from a shallow grave and walk away, their surprise would be no greater than my own."
"Not bad, for a demi-god." The old one steepled his hands. "Your crime?"
"Judenliebe. I tried to save as many Jews as I could–until I got caught. I can't save the world, but there is a way I could go back and save more people than I did. A way to do more good than harm." He looked intently at his host. "If you'll help me."
"We can only do so much." Weltschmerz felt the weight of the world on his shoulders. As usual. "Sometimes, we think we're doing the right thing, only to find out later we are the ones who caused the strife we're fighting so hard to stop."
"You can help me. I couldn't have dreamed you exist, much less have found you, if this were not so."
"Ah, you Germans." Weltschmerz sighed. "Just when I make good on my vow to stop meddling in mortal affairs, I see Nazi soldiers build nesting boxes and feeders for birds at the front. The Third Reich has a Department for Bird Protection. They protect the flora and fauna, yet they exterminate Jews. What would you have me do?"
"I was executed for treason, yet I didn't die. I had a dream, and here we are. You can tell me why."
"No. I'm done. If I had answers, would I be hiding out in a cave?"
Silas folded his arms, unmoved.
"Don't give me that look, young man. My days as a god among mortals is over. Moses should have been the last straw, telling his so-called Chosen People to throw us away. Then that badass Paul came along. The minute he'd turn his back on his converts, they'd worship their own gods again." Weltschmerz tapped his chest. "What am I, a wooden idol to smash and burn? To add insult to injury, Paul wrote long letters, full of chastisements, along with promises of an afterlife in some resurrected body, and do these epistles go up in flame like the lore of the Aztecs, or drown like the library of Alexandria? No. Two thousand years later, millions of people call his nastygrams the gospel truth."
The god heaved a profound sigh. "Still. Whatever thoughts I had about Moses, I wouldn't even dream of harming the people. Exile is bad enough. Genocide? Where is their God now?"
"The God of the Jews did not send angels to stay the hands of the executioners," Silas said. 'There's a Spiel about free will going on there. But I'm not satisfied to watch innocents die and hope there's a better life for them beyond this world. I want to do something here and now."
Weltschmerz laughed, shaking his head pityingly. "Been there, done that, as people will be saying in the future. Just don't complain to me when your efforts to undo any harm you've done lead to worse harm."
"I want a time machine," Silas said.
"So, go invent one. You Germans are good at that stuff. In fact, the Nazis already started work on one."
"You can travel without machines. Help me."
"I don't care if you're my grandson, or his Doppelganger, or a demi-god, or a lunatic. No."
Silas rose to his feet, slammed a fist to his chest as Kubla Khan himself might have, and recited Coleridge:
"I would build that dome in air,
That sunny dome! those caves of ice!
And all who heard should see them there,
And all should cry, Beware! Beware!
His flashing eyes, his floating hair!"
Weltschmerz laughed, without pity, this time.
The Muse had spoken. How could he refuse her?