"But Never Jam Today" – Day 473: 5 Minute Freewrite: Tuesday – Prompt: jam tomorrow
"Let's jam tomorrow,"
he texted me. I would have pretended not to get the message but we both had iPhones and he'd see that I saw that he wrote. Damn.
"The Music Lab is right off the Brown Line, so I don't have to lug my gear across town to peel the paint off the walls," he texted.
I could see him now. Probably while lilting down Michigan Avenue with a song on his headset, dreamily taking in the scene and hearing new beats in his head and thinking up new lyrics after seeing a girl on a bicycle in the rain.
Oh, Lionel.
What were the chances I'd drag my ass to Lincoln Avenue tomorrow and find him there, on time, or at all?
He was so easy to love and so hard to endure. I met Lionel in middle school, that tender age when we are so insecure and concerned about appearances. Being self-conscious, though, would have required some level of thought that Lionel didn't aspire to. His mental energy went to music and not much else, until, girls.
Oh Lionel. It was the biggest band concert of the year, with all parents and siblings in attendance. The band was about to begin. Except, no drummer. The principal got on the loudspeaker. "Lionel Davis." Yeah, that was his real name, a tip o' the hat to his dad's favorite musicians. "Lionel Davis, the band is about to play."
Tense silence punctuated by Mr. Blackman's repeated Lionel. Earth to Lionel which went for what felt like three minutes. Suddenly from the top of the bleachers a tall, skinny silhouette stood up and stepped lightly down the steep, crowded risers, then sauntered casually to the drums, sat on the throne and picked up his sticks. The evil eye from Mrs. Haydn bounced like oil off a hot Teflon skillet as Lionel started playing on cue. He was flawless. He was not the least bit embarrassed or apologetic; he just went to those drums as if he hadn't been chatting up the girls, oblivious to the obvious. What kind of parents manage to send out into the world a kid so imperturbable, so talented, and so maddening?
Lionel had the calm of the Buddha and it wasn't from smoking weed. He was born laid-back, like his dad, but his dad was a scientist with a nine-to-five, Monday-to-Friday gig at the same laboratory for his entire working career, designing acoustical stuff. Lionel's mom on the other hand was a scatter-brained poet-fiddler-artist who proved that opposites attract.
Any musical instrument he touched, Lionel could play. Guitar, bass, violin, jazz flute, any wooden instrument, any silver or gold or brass, would respond to the touch of Lionel's lips, Lionel's fingers.
A hundred million times, people would get homicidally angry with Lionel, yet the minute anyone blew up at him, he would calmly look black, blink, and shrug with that little smile that stopped anger dead in its tracks.
He had to be a ghost,
we figured, the way he'd drift from place to place, with that silent glide he had, that hint of a smile, like the Cheshire cat who left his grin behind on the tree branch. Call me Alice. Ok, call me Alicia, my real name, but hanging out with Lionel was often like living in Lewis Carroll's Wonderland.
Some time after college, ghosting became a verb, and if it was in the dictionary, Lionel's picture would be next to it. If you think Lionel ever ghosted someone and said "Sorry," you don't know Lionel. I asked my therapist about it back in my "Life Without Lionel Isn't Living" phase. She said it only makes the injured party feel more aggravated or trespassed against when the trespasser says "Sorry," but I honestly couldn't believe Lionel even registered the fact that he'd trespassed against someone and owed that person an explanation or an apology. His mind was probably so caught up in his latest composition, there was no room in his brilliant brain for such trivialities as people who relied on clocks and calendars to go places in life.
It wasn't just me,
Alicia, the girl who'd crushed on Lionel since Day One of middle school. Everyone was an equal-opportunity victim of Lionel's head-in-a-cloud ways. If the prime minister of England scheduled a meeting with Lionel, it'd take security guards to follow him and make sure he would really show up. If Miles Davis or Lionel Richie had ever booked a jam session with Lionel, chances are, our guy actually would have shown up, but not on time. How he survived in a city the size of Chicago was a mystery more puzzling than crop circles and the pyramids of Egypt.
No one ever seemed to know where he was,
and he was never where he was supposed to be. Phone messages? His inbox was always full.
And then you'd get a call from him after midnight telling you it wasn't too late to catch him jamming at the Green Mill with a rising star like Matt Ulery, or some old guy who used to be a studio musician for Nat King Cole and who played on all these famous albums everyone in the world hears without ever knowing who did the instrumentals.
My phone went off. One of Lionel's tunes, of course. I picked up. "Hey."
"A-liiiiii-cia." That lilt in his voice was as distinctive as the lilt in his walk. He always sounded pleasantly surprised.
The shock of hearing Lionel in real time was like seeing a freight train bear down on your stalled car on the railroad tracks and your life flashes before your eyes. I steeled my nerves.
"Look Lionel," I said, "it's after midnight and I have an actual day job to get to tomorrow, and I'm not packing my sax to get on the Brownline and wait for you to show up at The Music Lab only to get ghosted again. Sorry."
"I'd love to see you," he said calmly. "I'll be there at six. It'd be great to jam with you again."
Ghosting him yourself had no effect on him whatsoever. I'm not the only one who's tried. He could face down a tornado without flinching. How did he even know I'd moved to Chicago? I gave up social media long before those Russian hackers allegedly dug in.
Fact was, tomorrow would be Friday, and I had nothing better in my social calendar.
I programmed The Music Label into my phone calendar.
Lionel. Oh, Lionel.
Like Charlie Brown and Lucy's football, I would never learn.
---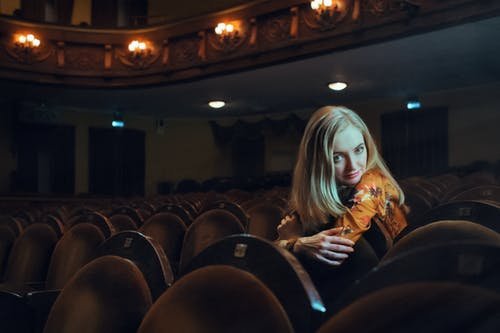 source
Jam tomorrow or jam to-morrow (older spelling) is an expression for a never-fulfilled promise. It originates from Lewis Carroll's 1871 book Through the Looking Glass and What Alice Found There, in which the White Queen offers Alice 'jam to-morrow'…

'The rule is, jam to-morrow and jam yesterday – but never jam to-day.'
*Story location inspired by Cameron's review of The Music Lab
Prompt: jam tomorrow
Set your timer for 5 minutes
Start writing
Use the hashtag #freewrite and #freewritepoetry if it turns out to be poetry
Publish your piece (include a link to this post if you wish)