Dirt was a fact of our childhood.
Digging in the garden, working in the field, running barefoot down dusty roads and coming back coated in off-white. Earth, Wind and Fire, too, though we have no old snapshots, no videos, that would capture our loud and windy world. My sister's husband, city-born and raised, had never known such ever-present wind.
Dirt roads turned to mud and ruts back in the day, and even now (this is a 2019 photo I snapped), it feels like going back in time a hundred years when I drive the gravel roads to my parents.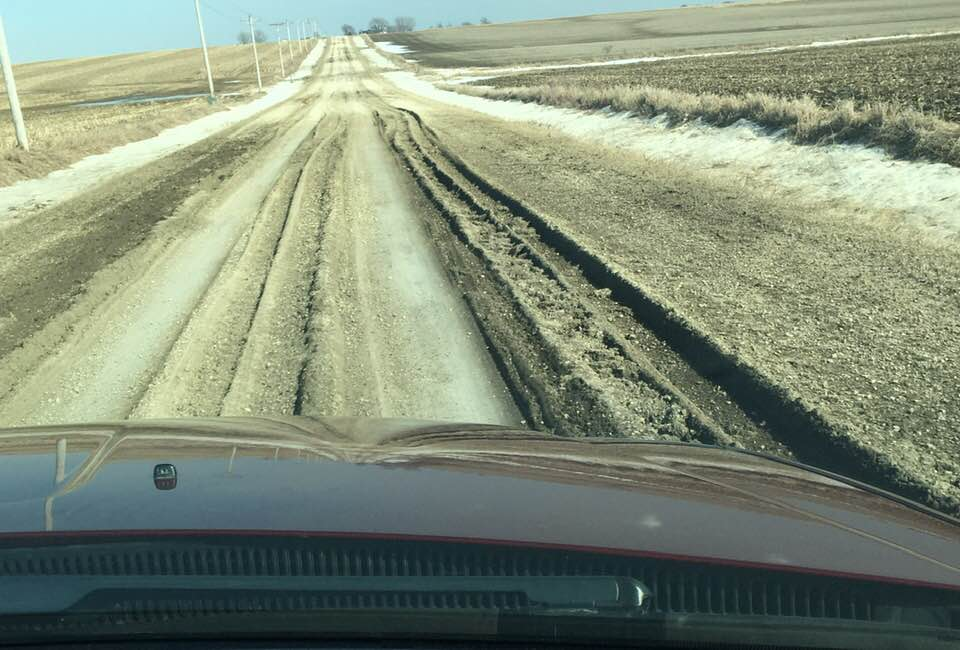 But I have no room to speak: less than half a mile from where I live now, in the 21st Century, this dirt road floods every spring. Our dogs love it. Cars, not so much!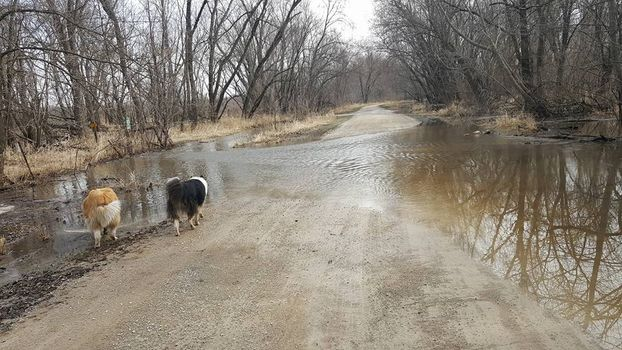 Kids on country roads rode the big yellow school bus…not gonna talk about that part of it, not today.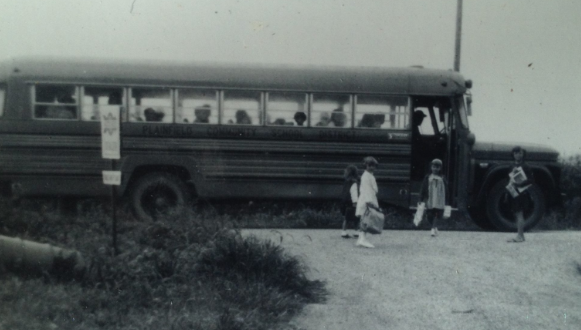 "Country Roads,"
The kind John Denver sang about, might make you think of the colorful, fanciful side of a childhood bordered by dirt roads. So, never mind the snow plow, the wash-outs after a flash flood, the things you hear about in third-world countries but don't expect to experience in modern America. Go ahead, picture the pretty part of it all. The bunnies, the blossoms, the scent of clover hay, the fleecy white clouds in the blue, blue sky. This 1980s greeting card (sorry, I can't find it now to locate the artist!) came from my sister: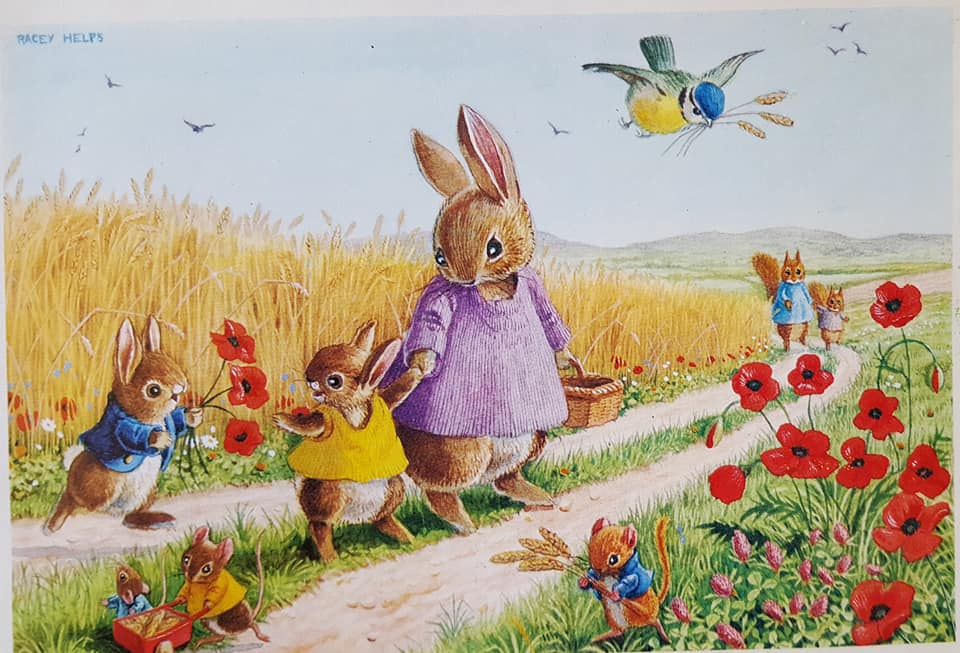 Dirt, dust, the ping of rocks on the underside of the car, the chalky white coating on windows, vehicles, line-dried laundry, shoes, and bare feet. I barely even gave it a thought, until I graduated college and got a job in town and lived on pavement ever after. Every trip back to the farm, I'd go back covered in dust. Just part of life in the country.
My own children were born "in town" — and we farm folk would always pity such children — but on the bright side, town life meant music lessons, dance classes, clean feet, and other hallmarks of civilization. If there was dirt to be found, or sand, my kids would find it, and gravitate to it. I had the "dirtiest" children in the neighborhood, back in the day. New houses were going up all the time, and before our daughter could walk, she was crawling up dirt mountains with her big brother. No, I'm not gonna inflict on you share every dang family photo here, but this one, I cannot resist. Here is Claire in 1994: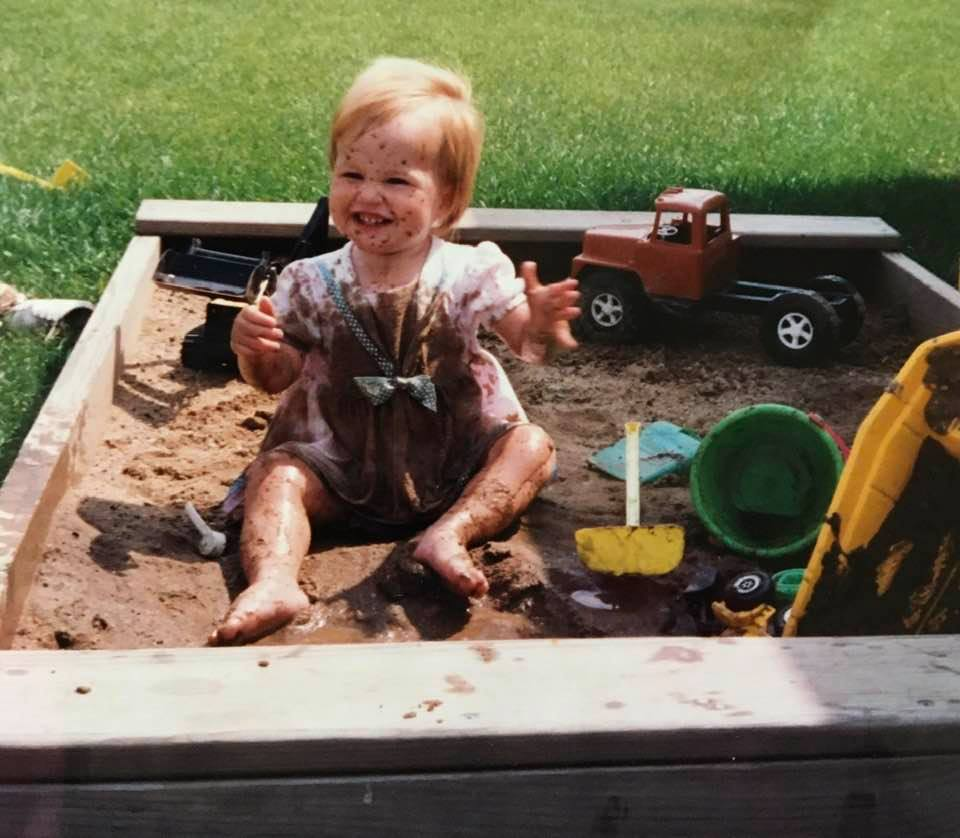 This same daughter grew up to be a fashion design major. Inspired by her Liberian-born fiance, she used African wax prints for her senior project. These are dresses she designed and sewed, modeled by women walking down the road, a modern, paved road, not the dirt roads of yesterday.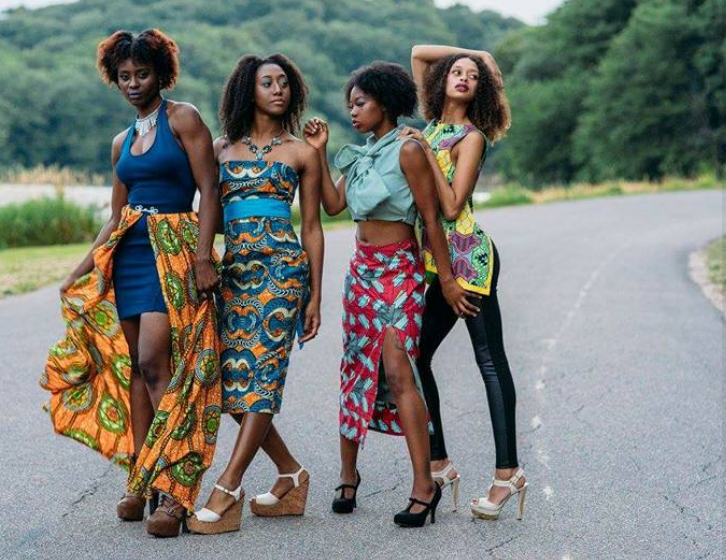 Earth, Wind, and Fire
Growing up on a farm, the proverbial Earth, Wind, and Fire defined our daily lives, along with Rain, Snow, and all things Weather. The weather was the first thing we'd ask about: not "How are you," on answering the phone, but 'How's the weather?"
These photos seem to capture the closeness to the earth that defined my childhood. Mom, burning off weeds in the garden, and Dad, burning debris after pruning trees in the grove. I'm trying to focus on one thing here, the dirt road of my childhood, but in the background of my mind I keep hearing "Fire is the devil's only friend" from the Don McClean song Bye, Bye, Miss American Pie. Because….no, not because I cannot forget the 79-yeard-old woman who died when her brush fire blew out of control (one gust of wind! One little gust! That's all it takes!)–ok, yes, I am haunted: what a way to go, and there but for the grace of God go I. And yet, and yet, I remain a pyromaniac.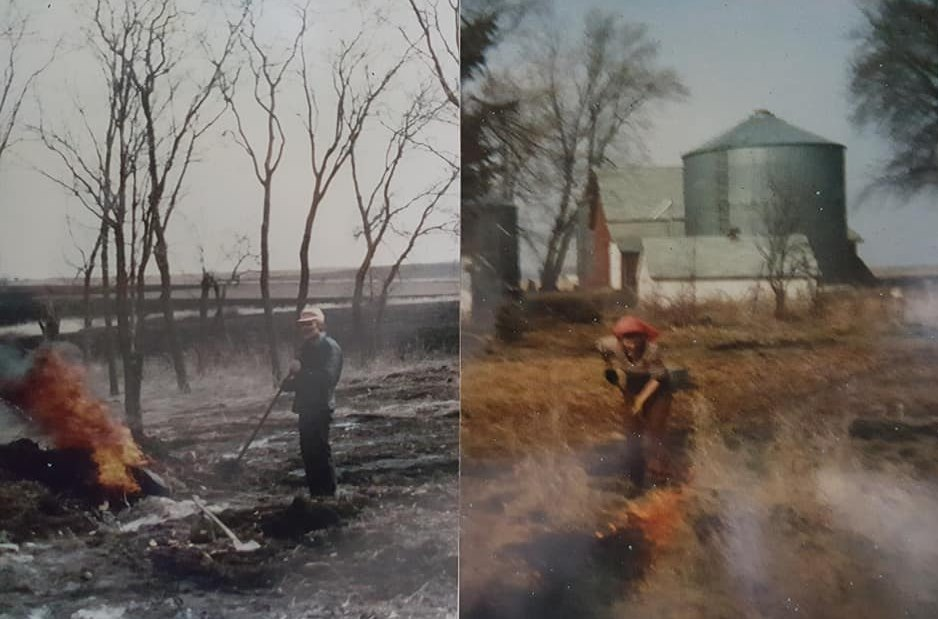 Fire was fun as well as functional,
and dangerous, always, of course. BUT. In our politically incorrect 1970s high school, Homecoming festivities began with a parade and a bonfire, with the uniform of the opposing team being burned in effigy. My sister Julie, Class of 1975, snapped this iconic scene: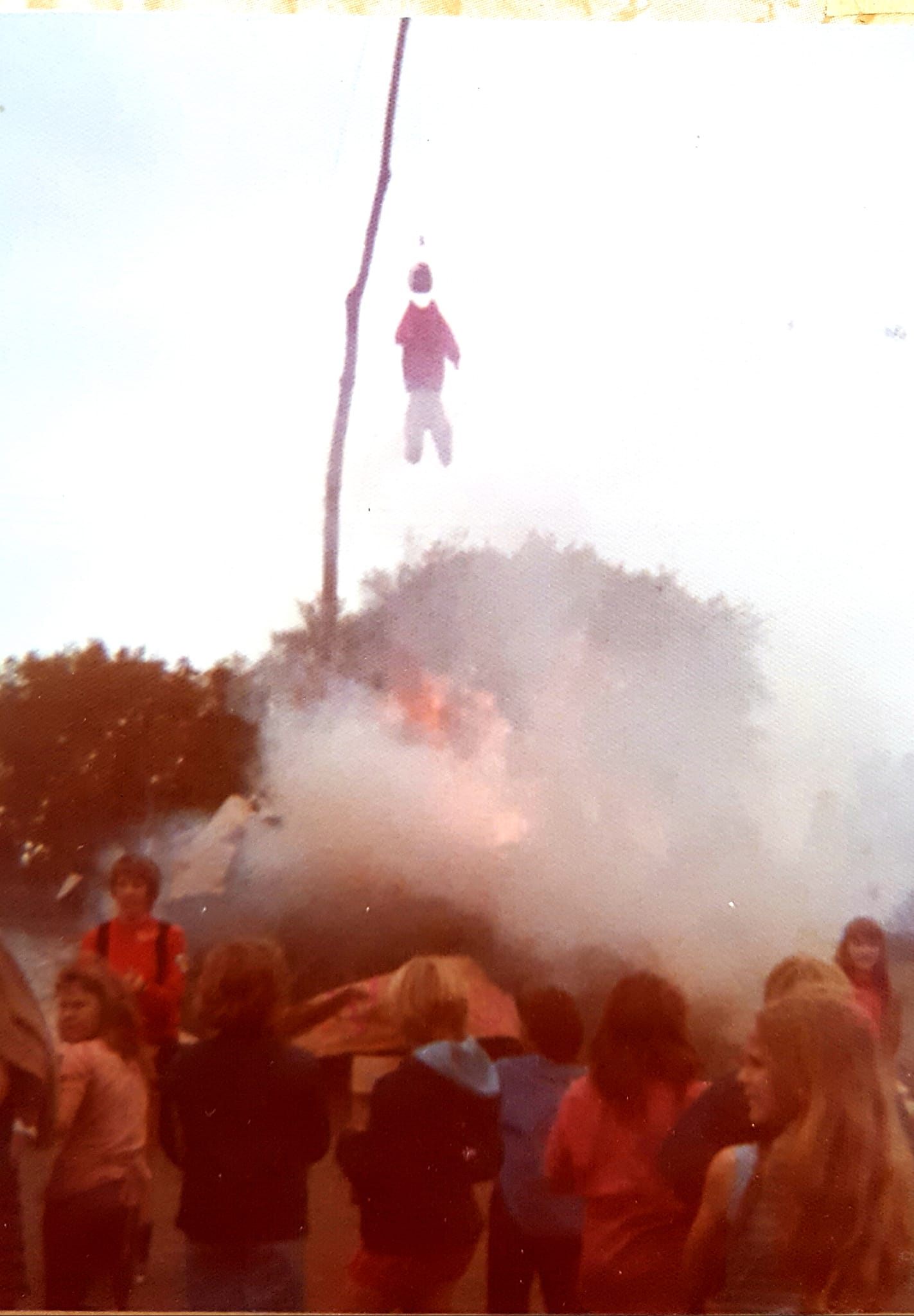 This meme–I wish I knew who to credit!–just has to be included here. Must I explain why?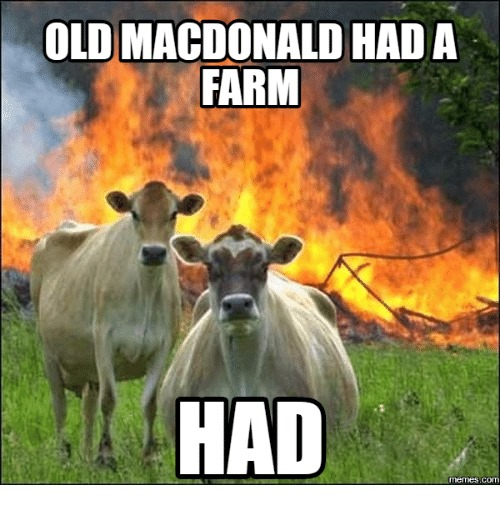 Fire, Fire, Fire,
The final solution, the sanctifying way to banish weeds for a season or to reduce abandoned homes to rubble. I fear it will be the fate of this forlorn farmhouse. Sister #2 of the 5 raised her daughter in this house, a mile from our family farm, within walking distance of the grandparents. It still stands today. Empty.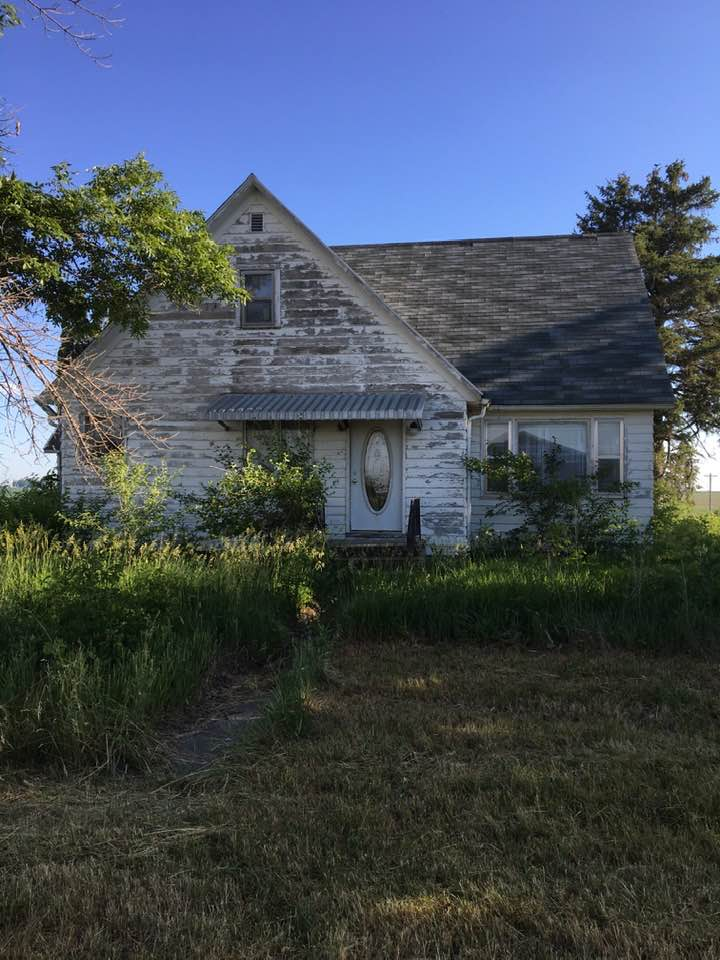 I'm trying to focus on "One Childhood Memory" but my mind is on my dad, who now has dementia, whose farm is in ruins. Only four years ago, I shot this photo of my dad with his first great-grandchild doing what all kids love doing on a farm, commandeering the tractor seat: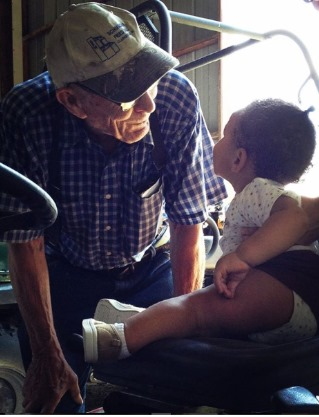 While I'm still derailed, allow me to sneak this in: I need to believe that something of my father's father lives on in my son, though Grandpa died half a century before Miles was even born. Ridiculous, I know. But it haunted me when Miles came home from school saying his history teacher asked the students to name their great-grandfather, and none of them could, though he kinda/sorta thought "Emil" but couldn't come up with the other great-grandfathers (and no, I'm not gonna do the exponential 2-4-8-16 thing). Just, here is Miles, here was Emil at the same age: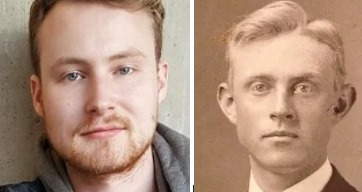 Getting back on track, I will add this recent shot of my mom at age 83, in better shape than a lot of women half her age.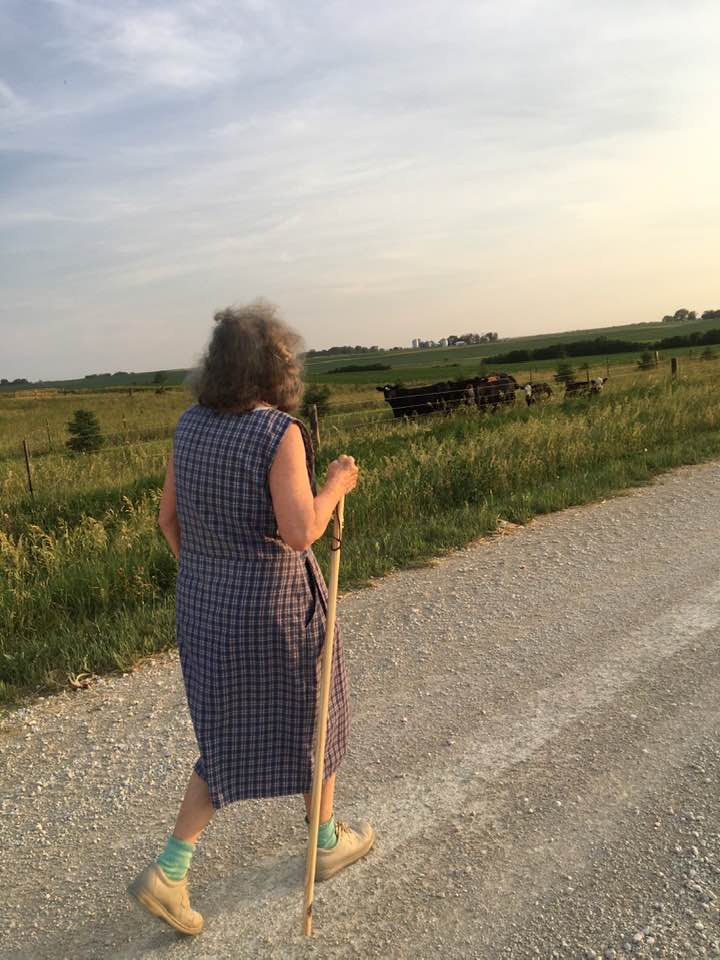 #### Duly note the cows! Still part of our world, or our neighbor's, anyway.
---
And now, and always, I come back to this.
A certain dirt road, five miles from home.
This one.
Here, in March 1976, my sister was found dead in a ditch, that childhood phrase parents would warn teen drivers with, but that isn't what took her down. This newspaper photo, this caption: "The dark, earthen area … where the body of Julie Ann Benning was found" – how does a mother, a father, a sister, read those words and find a home for them inside their minds, and just move on? For half a century, we have learned to "Live in the now" and not be defined by this tragedy, but Julie is a fact of life, a fact of death. Ashes to ashes, dust to dust.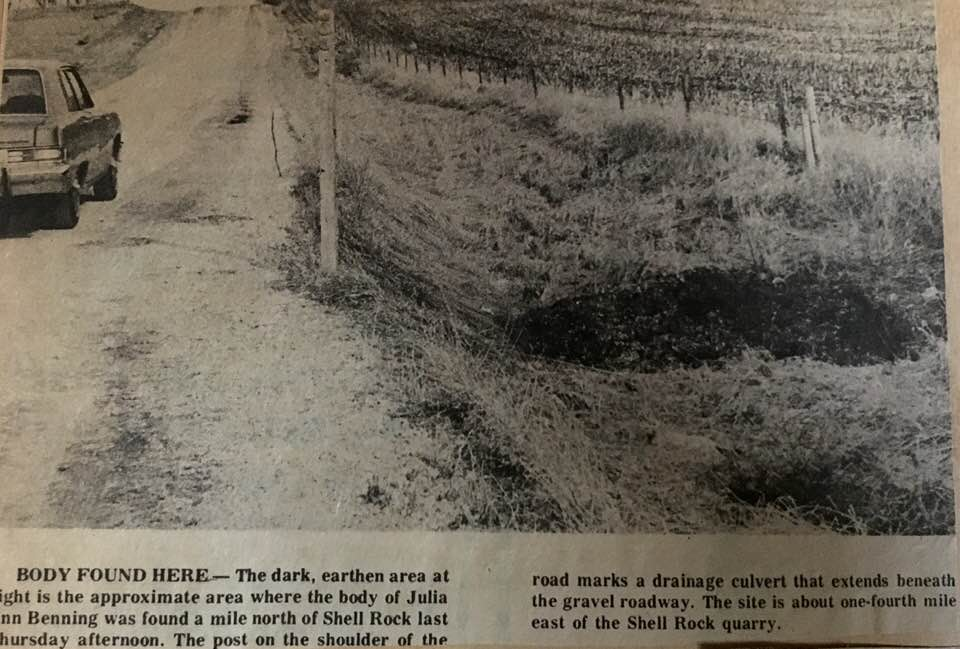 But DEATH is not the final word!
---
Does any story truly "end" with death? The story goes on. New players, new plots, or not:
"There are only two or three human stories, and they go on repeating themselves as fiercely as if they had never happened before." ― Willa Cather, O Pioneers!
If the dirt road of my childhood is "That one childhood memory that lives with you", I will also take heart in seeing the great-grandchildren running down this road. Yesterday, my grandchildren met their Germany cousin for the first time: Julia, namesake of the oldest of the five sisters who grew up on this farm, which still exists, with its dirt roads, in defiance of all that is modern, all that is "civilized." Julia of Germany is on the far left (Goats belong to our neighbors, not my parents.)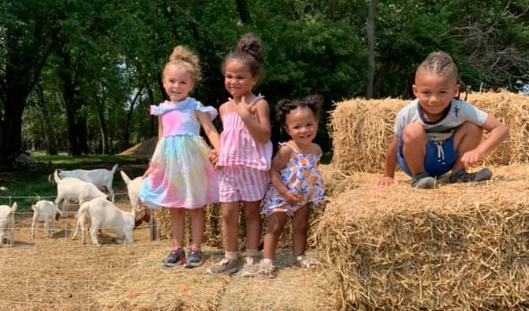 I am a grandma now. Whenever I go back to my childhood home, this fact of life still amazes me. Here is my daughter, with her youngest of three, and me: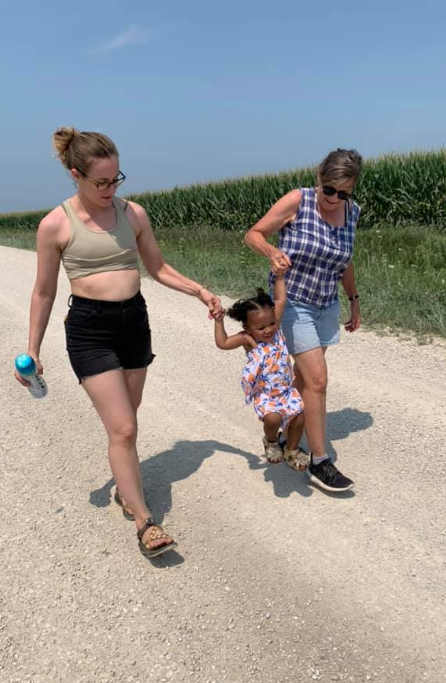 And here are her older two, legs chalky-white with dust, running down the road with their newly met cousin Julia, making new memories at the old home place where it all began: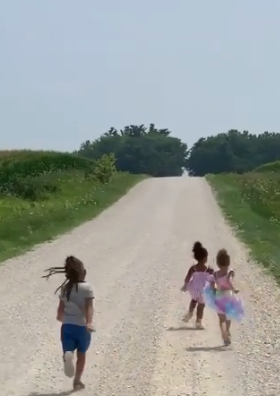 Life is good. Life goes on.